Apr

12

2011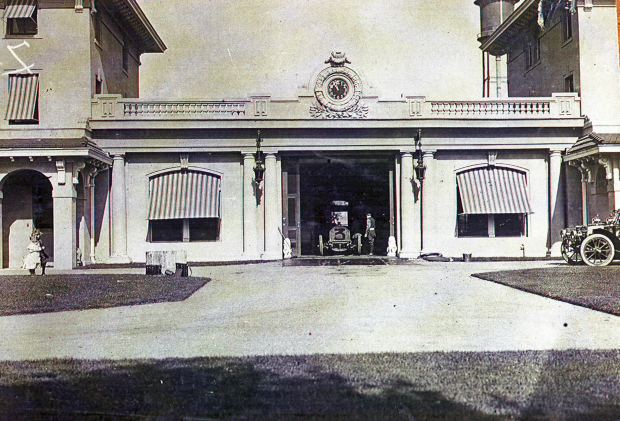 Shannon McDonald (Author of the book The Parking Garage: Design and Evolution of a Modern Urban Form): "Were there any garages associated with the Vanderbilt Cup Races?"
Shannon, there were four major Long Island automobile garages that were used to store the race cars and serve as the team headquarters during the Vanderbilt Cup Races:
Graves' Garage, Mineola, New York
One of the largest and most elegant garages was built by Robert Graves, the owner of Mercedes racers entered in the 1906 and 1908 Vanderbilt Cup Races. Unfortunately, during construction in September 1906, the building collapsed resulting in the death of three workers and twelve more injured.
---
August Porrier's Hotel and Garage, Garden City, New York
Porrier's was the home for several racing teams from 1904 to 1910. The garage was located on the border of Garden City and Hempstead.
---
Bulls Head Auto & Wagon Shed, Greenvale, New York
Bulls Head was the headquarters for racing teams for both the 1905 and 1906 Vanderbilt Cup Races. In 2005, Fred Blumlein, great-grandson of the owner Aloysius Huwer, wrote:
Greenvale's Bulls Head Hotel, located smack-dab on the corner of that tough turn, played an important role in the 1905 race. Aloysius Huwer, proprietor of the hotel (and the writer's great-grandfather), rented his "Auto & Wagon Shed," to race driver and car owner, Walter White. White and his mechanics bunked in the Hotel and used Huwer's Shed to ready his steam-driven racer for the event. White's machine was the only steam racer ever to be driven in the Vanderbilt Cup Races. He received an "A" for trying, but had to abandon his car in the fifth lap because of engine and tire troubles. During the 1906 race, the Bulls Head Hotel and Shed became the base camp for the Pope-Toledo car group. They were the last race team to use the site during the races.
---
Krug's East Williston Hotel, Stables and Automobile Garage, Mineola, New York

Behind Krug's Hotel was a large automobile garage that housed one to two racing teams for each of the Vanderbilt Cup Races.
---
Links to related posts on VanderbiltCupRaces.com and the Internet
The Parking Garage: Design and Evolution of a Modern Urban Form
Film "Krug's Hotel: The Best Accommodations on the Course"
Then & Now: Bulls Head Hotel on Northern Boulevard and Glen Cove Road in Greenvale
---