Dec

31

2008
For the last VanderbiltCupRaces.com post of 2008, I have selected amazing images from the Queens Borough President's Collection that show two Long Island Motor Parkway bridges over Winchester Boulevard in Queens. Yes, in November 1932, there were two bridges at this location and the Motor Parkway looked like a four-lane parkway. Alas, it was just a temporary illusion. Here's the story:
As seen on page 71 of our book The Long Island Motor Parkway, the first bridge over Winchester Boulevard was built in 1912 and used railroad-type trestle construction as required by New York City.
In 1930, New York City decided to widen Union Turnpike to make it a major east-west road through Queens. However, at Winchester Boulevard, the Motor Parkway was in the path of the expansion. By an agreement among the city, the owners of the Motor Parkway and nearby Creedmoor State Hospital, New York City agreed to move a section of the Motor Parkway further north of the original location. Click here for a PDF of the New York Times June 22,1930 article describing this road improvement program.
This image shows pre-expansion Union Turnpike looking east on March 3, 1932. The buildings and chimney stacks of Creedmoor State Hospital are straight ahead and the Long Island Motor Parkway is to the left with the two bridges over Winchester Boulevard further east.
In a close-up of the two Long Island Motor Parkway bridges, you can see that the new concrete bridge used the same design as three Queens bridges over 73rd Avenue, Hollis Hills Terrace and Springfield Boulevard (all still proudly standing!).
This is the March 3, 1932 view from the "old" Motor Parkway bridge over Winchester Boulevard.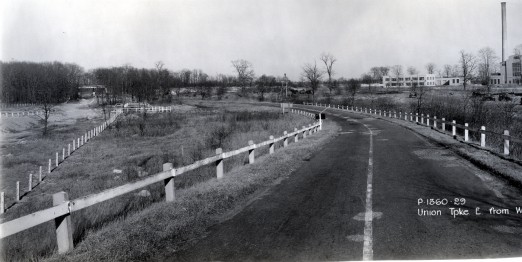 A closer look shows the ever-present line of concrete posts bordering the parkway. The newly-built section of the Motor Parkway is to the left.

Finally, as noted in the New York Times article , a pedestrian bridge to Creedmoor State Hospital was also built over the Parkway further east of Winchester Boulevard. The sign on the bridge reads: "STAY TO YOUR RIGHT".
A Happy and Healthy New Year!!!
Howard Kroplick