May

27

2014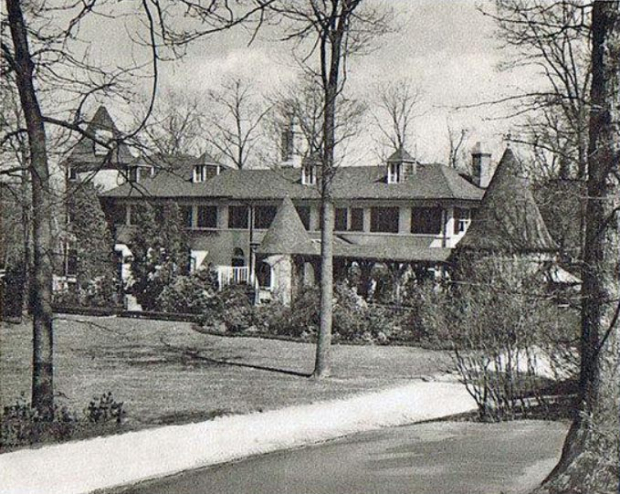 Leroy Douglas: "I wish you would show photos of the Vanderbilt estate in Wheatley Heights, now known as Madonna Heights School for Girls."
Leroy, this is a photo of the Bagatelle mansion located east of the Motor Parkway in Half Hollow Hills. From 1924 to 1953, it was the home of Dr. Herman Baruch, brother of FDR's advisor Bernard Baruch. The building and surrounding facilities are now the Madonna Heights campus offering "services to helping vulnerable adolescent girls, women and families".
A continuing mystery is who originally built the mansion often "known as Vanderbilt place."
Below are my research findings on the Bagatelle estate. Anyone have additional information?
Enjoy,
Howard Kroplick
---
Herman Baruch (1872-1953)
Herman Baruch, the third Baruch brother was born in 1872 and was the only sibling of Bernard's who did not directly follow him to Wall Street and the only one, other than Bernard, to achieve a college education. Graduating from the College of Physicians and Surgeons at Columbia University, he worked as a doctor for a number of years. In large part based on the fame and influence of his famous brother, Herman embarked on a career as an ambassador, serving in Portugal and then Holland.
As seen in this 1941 Hagstrom map, purchased by Dr. Baruch in 1924, the "Bagatelle" estate was located east of the Motor Parkway and west of Burr's Lane.
According to my favorite co-author Al Velocci, the 255 acres of the Bagatelle Nurseries was purchased by Dr. Baruch from the Long Island Motor Parkway, Inc. in 1927 for $55,000 (equivalent of $750,000 today).
The seller and the original owner of the Bagatelle mansion remain a mystery as seen by the following links:
Wheatley Height/Dix Hills Inc. Civic Association:"Dr Baruch bought the "Castle" from the grandson of shipping and railroad tycoon Cornelius Vanderbilt, and later sold it to an order of Catholic nuns. (Current site of Madonna Heights)".
Wikimapia: "Rumored to have been owned by WK Vanderbilt as a hide-away for his mistress c. 1910. French Manor on 225 acres. Later owned by Dr. Herman Baruch. Now part of the Madonna Heights Crisis Residence for Young Women".
Baruch & Bagatelle: Part 3: 1872-1934- Half Hollow Hills Patch "On June 13, 1924, the Long-Islander announced that, "Dr. Baruch, of Manhattan, has purchased the Bronson property, also known as the Vanderbilt place, fronting the Motor Parkway." According to the local legend, which was repeated by both of Herman Baruch's stepchildren, Willie K. Vanderbilt originally built this house, and some say he built it for his mistress. The property is in very close proximity to the original path of the Long Island Motor Parkway, and Herman's stepson recalled that there were pieces of the parkway in the woods of the property so it is likely that at one time Willie K. did own the property. Newspapers and historic maps revealed no proof to verify this, but a deed search has not yet been done in Riverhead. Though that would only prove that he owned the property, it does not conclusively determine if he developed and built the house or not".
The original mansion has been incorporated into the Madonna Heights campus.
The most comprehensive research on Dr. Baruch and Bagatelle was conducted by Claudia S. Fortunato in this six-part series for Half Hollow Hills Patch:
Baruch & Bagatelle: Part 1: The Process
Baruch & Bagatelle: Part 2:The saga continues
Baruch & Bagatelle: Part 3: 1872-1934
Baruch & Bagatelle: Part 4: 1935-1949
Baruch & Bagatelle: Part 5: 1950-1954

Update: June 1, 2014
From Verne Dyson's book "Deer Park - Wyandanch History (1957)" courtesy of the Hathi Trust.
"Dr. Baruch purchased the estate of William K. Vanderbilt".