Aug

16

2015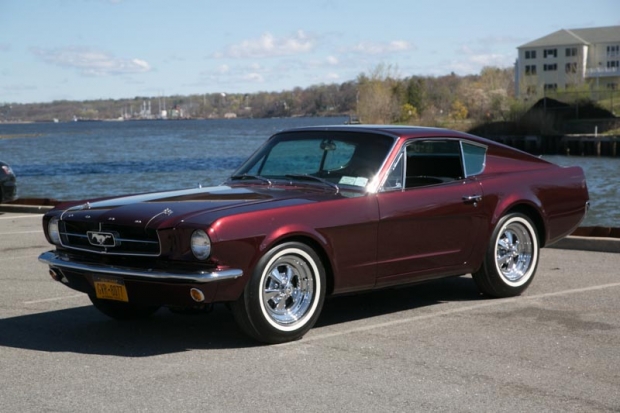 Here are the current research findings on the 1963 Mustang III Concept Show Car.
Your assistance is requested to help research this historic Mustang. Please provide any suggestions or photos to [email protected] . In particular, I am looking for:
The April 1965 issue of Custom Craft magazine
Brochure "Sports Cars in Review-1965" published by the Henry Ford Museum
Information on:
-Ford Custom Caravan of Cars (1963-1965)
-Dearborn Steel Tubing
-Vincent Gardner
Enjoy,
Howard Kroplick
---
Profile: 1963 Mustang III Concept Show Car (Updated: June 12, 2015)

Chassis: VIN # 5S08F100009
From August to December 1963 Ford built 15 pre-production pilot Mustang chassis to establish assembly procedures, to determine engineering revisions necessary for future production at Ford's Dearborn Assembly Plant and to create concept show cars.
These 15 Mustang pilot units with S-code VINs were built at the Allen Park Pilot Plant prior to the first assembly of production Mustangs which began in early 1964. After their use, all Mustangs with S-code VINs were scheduled to be destroyed since they were not built for the road.
This automobile was the ninth pre-production Mustang ever built. The first eight S-code Mustangs have been destroyed or their existence are unknown.
It is the only known existing Mustang with an S-code VIN and according to Mustang historian Bob Fria, it is likely "the oldest known Mustang on the road today."
Decoding the VIN #5S08F100009
-Assembly Plant 5S: 1965 model built in Allen Park Pilot Plant
-Body Code 08: Convertible
-Engine Code F: V8 260 CID 2-barrel carburetor
-Unit 100009: #9 of the 15 pre-production Allen Point Pilot Plant chassis

---

Specifications
-300 +HP
-302 cubic inch V-8
-Three 2-barrel carburetors
-Floor-shift automatic
-DC generator
-Rally Pac column-mounted tach and clock
-Factory radio
-Floor-shift automatic
-Mileage (4/4/2015): 15,269
-90 inch wheelbase (shortened by 16 inches)
-Cragar wheels
-Drum brakes
-Goodyear narrow whitewalls
-Prototype safety glass side windows
-Stock Mustang steel nose
-Fiberglass greenhouse and rear body
-Unique sail panel fastback design with curved plexigalss windows
-Quick release outside gas cap
-Dual exhaust

Mustang III History and Ownership
-In June 1964, this chassis with a convertible body was provided by Ford to its prototype/concept car show supplier Dearborn Steel Tubing, builders of the 1963 Mustang II Prototype and other Ford concept show cars.
-At the request of Ford Motor Marketing Division, Dearborn Steel Tubing built this two-passenger "Shortie experimental Mustang" for showing in the Ford Custom Car Caravan. As part of the agreement, Dearborn Steel Tubing obtained ownership of the car and lease it back to Ford for special appearances. Apparently following these car shows, as part of the agreement, Dearborn agreed to destroy the car.
-Prominent designer and stylist Vincent Gardner shortened the wheelbase by 16 inches and fabricated a unique fiberglass fastback body. It was painted a unique candy apple red by Paul Shedlik.
-
-The original Mustang 260 cubic –inch V-8 engine was bored to 302 cubic-inches and equipped with a trio of two-barrel carburetors. According to Ford, this became "a prototype for one of the most beloved engine configurations in Mustang history."
-It was displayed as Mustang III at the "Sports Cars in Review" Exhibit held in January 1965 at the Henry Ford Museum.The Mustang III name was derived following the naming of the Mustang I and the Mustang II prototypes.

-The automobile was featured in the May 1965 issue of Motor Trend and described as "Mustang III, a limited production 1965 1/2 offering... Its new fastback roof may herald changes on production models for 1966."
-The Mustang III traveled throughout the United States as part of the 1965 Ford Custom Car Caravan.
-The Mustang III was stolen on May 2, 1965 from Dearborn Steel Tubing by its designer Vince Gardner, apparently to keep it from being destroyed.
-According to police reports, the automobile was hidden by Gardner in a nearby warehouse surrounded by a temporary wall.
-Dearborn Steel Tubing reported the car stolen and placed a claim for $16,979 (equivalent to $126,200 today) with its insurer Aetna Casualty & Surety.
-Aetna paid Dearborn Steel Tubing $10,000 for the claim (equivalent to $75,110 today)
-Recovered by the Detroit Police Department on December 3, 1965, it became the property of Aetna, which was under no obligation to destroy the automobile.

-On December 6, 1965, the Detroit Free Press reported on the recovery of the "test car missing 7 months" in an article "$50,000 'Hot' Car Found." $50,000 in 1965 is the equivlaent of $380,000 today.
-On June 2, 1966, the automobile was sold by Aetna to one of its executives, Edward Feaster, of Simsbury, Connecticut.
-In the December 1968 issue of Hemmings Motor News, Feaster placed it up for sale listed as a "Prototype Fiberglass Mustang built for Ford Marketing Department in 1964."
-The automobile was sold in January 1969 to Ohio executive Bill Snyder, who owned it for over 46 years.
-The Mustang III was restored from 2012 through February 2013 and headlined the 2013 Amelia Island Concours d'Elegance.
-It was featured with the Mustang I and Mustang II prototypes at the 2014 Ford Product Development Center Car Show in August 2014 and displayed as the Mustang III Prototype.

-Howard Kroplick of East Hills, New York purchased the Mustang III at an Auctions America in Fort Lauderdale on March 28, 2015.