Mar

09

2013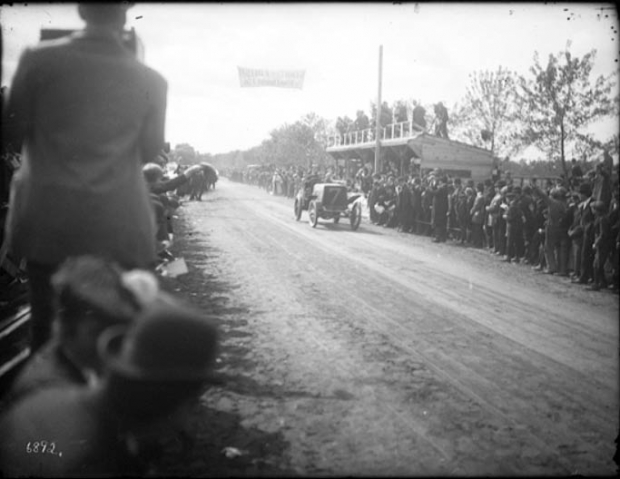 The most prolific photographer of early automobile racing and the Vanderbilt Cup Races was Russian emigrant Nathan Lazarnick. His profile and several of his unique photos are posted tonight.
Enjoy Spring Ahead Sunday,
Howard Kroplick
---
Nathan Lazarnick (1879-1955)
Nathan Lazarnick was a pioneer photographer of the development of early automobiles and racing from the early 1900s to the late 1920s. Born in Russia on September 7, 1879, Nathan Lazarnick was brought to the New York as an infant. His education included the study of art at Cooper Union in New York. At the turn of the century, he worked as a photographer's apprentice for three years. He then became a free-lance photographer for the New York Mail, the New York Herald and Harper's Weekly and all the major automobile trade journals. In this capacity, he covered many automotive events including the Vanderbilt Cup Races, the presidential campaigns of Taft, McKinley and Roosevelt. Among the people he photographed were Steinmetz, Edison, Oldfield, Rickenbacker and many prominent personalities of the era.
When asked about his photography in 1924, Lazarnick responded; "The automobile hypnotized me and I became intensely interested in the "horseless carrigage" following all of its activities closely, also the developments of the automobile as a mechanical invention, a sport, a traveling medium, and as a wonderful industry, which developed what I believe to be the most interesting group of men in the last quarter of a century."
Later he became a photographic illustrator based in New York. He worked for Redboook, Cosmopolitan, McCalls, American Druggist and Good Housekeeping. He also developed advertising photography for the industrial and medical fields.
Lazarnick was married with one son George, who worked with him for several years. When Nathan Lazarnick died on January 20, 1955, George donated his father's early glass negative to the International Museum of Photography.
This pioneer of automobile photographer photos can now be found at George Eastman House and the National Automotive History Collection at the Detroit Public Library.
Lazarnick's ad in the 1910 Vanderbilt Cup Race Program Guide

1904 Vanderbilt Cup Race
Driver George Heath in front of his Panhard.
William K. Vanderbilt, Jr. in his Mercedes that set the one-mile land speed record.
Frank Crocker, driver of the #17 Simplex.
Albert Clement after the race.
George Heath winning the race.

1905 Vanderbilt Cup Races
Emanuel Cedrino and his favorite mechanic, his wife, preparing a FIAT.
The grandstand crowd in Mineola.

1906 Vanderbilt Cup Race
Joe Tracy driving the Locomobile in Westbury.

Links to the Nathan Lazarnick Collection at the George Eastman House
1910 Vanderbilt Cup Race
950 Images
Briarcliff Trophy Race-April 1908