Feb

23

2015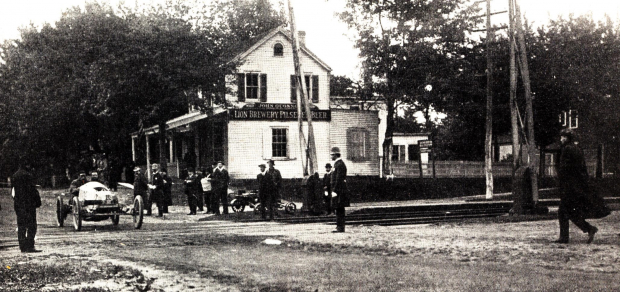 This weekend's Mystery Foto documented a rarely photographed location for the Vanderbilt Cup Races.
Mystery Foto questions:
-Identify the year of the Vanderbilt Cup Race in this photo.
The 1904 Vanderbilt Cup Race course. Based on the few spectators (see the Pope-Toledo photo in Kleiner's Korner), it is likely the photo was taken during a practice run.
-Identify the racer, its driver and the mechanician
The #16 Packard Gray (AKA Grey) Wolf driven by Charles Schmidt and mechanician William McIllrid. Schmidt, born in France, was also the designer of the Gray Wolf.
-Identify the location. What was unique about this section of the course?
The LIRR crossing on Creed Avenue (now Springfield Avenue) just before the right turn on to Jericho Turnpike (Queens section called Jamaica Avenue). O'Connor's Tavern was on the west side of the course.
This section of the 1904 course was unique because it was held in Queens- the only Long Island Vanderbilt Cup Race not held in Nassau County. It was also unique because it was one of only three railroad crossings on the 1904 course (the other two were in Hicksville and Hempstead). Moreover, the Gray Wolf was the only Packard to compete in the Long Island Vanderbilt Cup Races.
Congrats to Robert Greenhaus, Greg O., Tim Ivers, Steve Lucas, Brian McCarthy, Art Kleiner (See Kleiner's Korner) and Ariejan Bos who correctly identifed the Mystery Foto. Kudos to Robert Greenhaus for recognizing that the Mystery Foto may have been taken during a practice run and Art Kleiner for his supporting documents.

Enjoy,
Howard Kroplick

Closeups
Note the flagman and officiers ready to stop the racers if a train was approaching.
John O'Connor's Tavern is on the right.

Packard Gray Wolf at the 1904 Vanderbilt Cup Race
The Packard at the starting line. The referee William K. Vanderbilt Jr. can be seen in the fur coat on the far right.
Making the turn on Massapequa-Hicksville Road on to the "new" Hempstead Turnpike.
A Peter Helck painting of the Packard Gray Wolf which graced the cover of the 1978 Anniversary issue of The Packard Cormorant.
The Packard being held at the Hempstead Control just before reaching another LIRR crossing.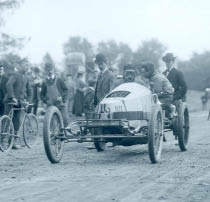 Approaching the LIRR crossing on Creed Avenue.


The Packard Gray Wolf taken can be seen at the 1:01 mark of this 1904 Vanderbilt Cup Race film by American Mutoscope & Biograph.

Creed Avenue (Springfield Boulevard) and Jericho Turnpike in Queens


The Queens section of the course can be seen at the 6:08 mark.
Now 2015: The Mystery Foto location as it looks today in Queens Village.

Kleiner's Korner (Submitted by Art Kleiner)
The #6 Pope-Toledo at the same location.
Creed Avenue (Springfield Boulevard) looking north to Jericho Turnpike form the LIRR crossong (September 6, 1911)
1907 Belcher-Hyde Map of the location.
New York Times September 1, 1911: Elimination of the grade crossing.
Now: Google aerial of the location.