Oct

24

2015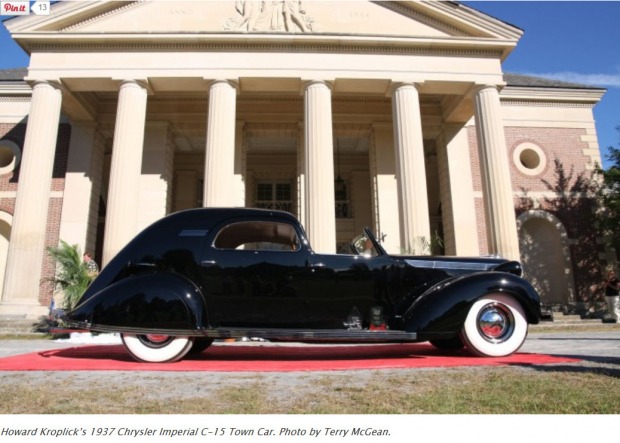 Allentown, Pennsylvania's, America on Wheels museum has confirmed its November 14 opening of an exhibit focusing on those distinctly styled cars from the Thirties, titled The Harmony of Form & Function featuring Streamline Moderne – Art Deco.

The exhibit is slated to feature a one-of-five 1941 Chrysler Newport dual-cowl phaeton, a design whose admittedly slim prospects for production were cut short by World War II; a 1934 Hudson Eight convertible; a 1939 Lincoln Zephyr convertible; a 1935 Nash Ambassador Eight; a 1934 Studebaker Land Cruiser; and a 1939 Graham, aka "shark nose."
Each of the cars displays the sort of streamlining that marked drastic changes in automobile design during the decade before the war. Some of those designs may have been developed for aerodynamics, but most were guesses at such efficiency of moving through the air and were more styled than engineered. Still, you could very easily argue that the movement produced some of the most striking, iconic and alluring automobile designs of all time.
Readers and friends of Hemmings will also recognize Howard Kroplick's 1937 Chrysler Imperial C-15 Town Car, more affectionately known as Mrs. Chrysler's Chrysler and the recent recipient of not only a couple of extensive feature stories in the September 2015 Hemmings Classic Car, but also of the 2015 Hemmings Concours d'Elegance Best of Show trophy.
While the term "Art Deco" is rather frequently applied to cars that don't exactly fit the criteria, our own Mark McCourt has written about the subject both on our blog and in the pages of Hemmings Classic Car, explaining in detail the difference between it and Streamline Moderne, which more appropriately describes the cars of the era and the budding desire to style automobiles with aerodynamic and, well, streamlined, flourishes.
Open since 2008, America on Wheels bills itself as "A Museum of Over the Road Transportation." The museum's permanent collection includes the likes of a 1933 Hupmobile convertible, a 1919 Mack AB truck, a 1922 Detroit Electric and even a Flying Merkel Motorcycle. Executive Director Linda Merkel (no relation to the motorcycle), explains the appeal of the museum by saying that "Visitors are always surprised when they walk into America on Wheels, because we tell a story." Hemmings readers will certainly be familiar with the notion that a vehicle can tell a story.