May

11

2013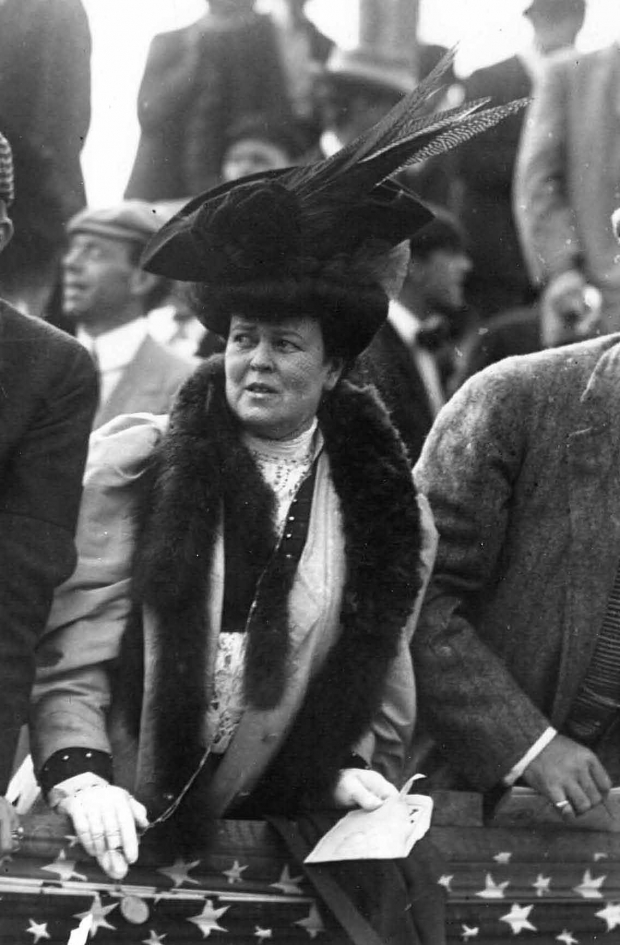 In celebration of Mother's Day, this is a photo tribute to William K. Vanderbilt Jr.'s mother, Alva Vanderbilt Belmont.
Happy Mother's Day,
Howard Kroplick
---
Library of Congress Profile: Selected leaders of the National Woman's Party
Benefactor
Alva Vanderbilt Belmont (1853-1933)
Often referred to as "Mrs. O. H. P. Belmont" in suffrage literature, wealthy New Yorker Alva Belmont was the most important financial benefactor among the leaders of the Congressional Union for Woman Suffrage (CU) and its successor organization, the National Woman's Party (NWP). Her 1895 divorce from William Vanderbilt, the grandson of mogul Cornelius Vanderbilt, brought her a personal fortune, along with Marble House, the Vanderbilt summer mansion in Newport, Rhode Island.
After the death of her second husband in 1908, Belmont devoted herself, her money, and often her home, to women's rights causes–notably suffrage and the rights of laboring women to gain decent standards of work and wages. She was masterful in raising funds and in orchestrating her circles of socialite, business, and political connections to win support for suffrage. Her efforts made New York City an important center of influence for affluent women's rights supporters.
In the period when the NAWSA Congressional Committee became active, Belmont was quick to support Alice Paul and Lucy Burns in their desire to step up the militancy of the American movement. She wanted to make suffrage an election issue nationally, as she had done successfully in New York State. She helped craft the shift in policy in 1914 toward holding the Democratic Party–which then controlled both Congress and the White House–responsible for not adopting a suffrage amendment. A similar technique of political leverage had been used by suffragists in Britain.
Belmont was an important strategist and officer for the suffrage movement. She brought her experience with picket lines and arrests from the 1909-10 shirtwaist workers' strikes in New York. In December 1917, following the November "Night of Terror" at Occoquan Workhouse, Belmont chaired a mass meeting at Belasco Theatre, attended by thousands, at which the newly released prisoners were honored for their service to liberty. She was a member of the executive boards of both the CU and NWP (1914-20). However, the degree to which those organizations were dependent on Belmont's largesse sometimes posed uncomfortable questions regarding her power over the organizations' policies.
In the year following ratification of the 19th Amendment, Belmont became president of the NWP. When the NWP headquarters in the Old Brick Capitol was seized to construct the Supreme Court building, Belmont purchased a large brick historic home located close to the U.S. Capitol in Washington, D.C., and donated it for use as NWP headquarters. Dedicated in 1931, the building is still used by the NWP as a nonprofit organization and is open to the public as the Sewall-Belmont House and Museum. Belmont's funeral in 1933 was well-attended by supporters of women's rights.
1883: Alva in a Venetian costume for her 1883 Ball.
1887: Alva (far right) on a trip up the Nile with her children (9-year old Willie K standing in the middle), her husband William K. Vanderbilt (white outfit far left with 10-year daughter Consuelo by his side) and family friend Oliver Hazard Perry (O.H.P.) Belmont (sitting with cigarette far left). In 1895, after 20 years of marriage, Alva divorced Vanderbilt. Nine years after the Nile cruise, she married O.H.P. Belmont.
October 14, 1905: Alva (second from left) and her second husband O.H.P. Belmont (third from left), son of August Belmont at the 1905 Vanderbilt Cup Race grandstand on Jericho Turnpike in Mineola.
October 14, 1905: Alva (firat women from left) watching her son referee William K. Vanderbilt Jr. speak to his wife Virginia (white hat) at the 1905 Vanderbilt Cup Race.
1911 portrait.
July 10, 1914: Alva (second from right) and her daughter Consuelo (far left)
September 10, 1920: Alva and Suffrage leaders in front of her Sands Point mansion Beacon Towers.
October 26, 1922: Alva and Suffrage leadership