David Bruce-Brown
Winner of the 1910 and 1911 American Grand Prize Races
Nationality: United States
Born: August 13, 1887 New York City
Died: November 1, 1912 Milwaukee, Wisconsin 25 Years
David Loney Bruce-Brown – Part 1, The Early Years

The life of David Bruce-Brown is shrouded in mystery that begins with date of his birth, by some accounts falsely reported as sometime in 1890. But David Loney Bruce-Brown was born August 13, 1887 to parents of two prominent families linked to several fortunes.

Bruce-Brown's father George inherited his grandfather's extensive New York real estate holdings as well as the much of the wealth of his great-grandfather and tobacco magnate, Pierre Lorillard. Lorillard was the founder of the company behind famous brands like Kent and Newport.

Tragically, George also inherited a large position in the prospering McKesson Pharmaceuticals Company when his first wife, Virginia Greenway McKesson, passed away prematurely. George's second wife and David Bruce-Brown's mother, Ruth Arabella Loney, brought additional wealth to the family as the heir to her father's real estate fortune.

Between his two wives, George Bruce-Brown had four children, one girl and three boys, with David the youngest. George died at 48 in 1892 when David was barely five years old. Ruth Bruce-Brown, a widow at 39, formed a tight bond with her two young sons, David and his brother William, who was a year older.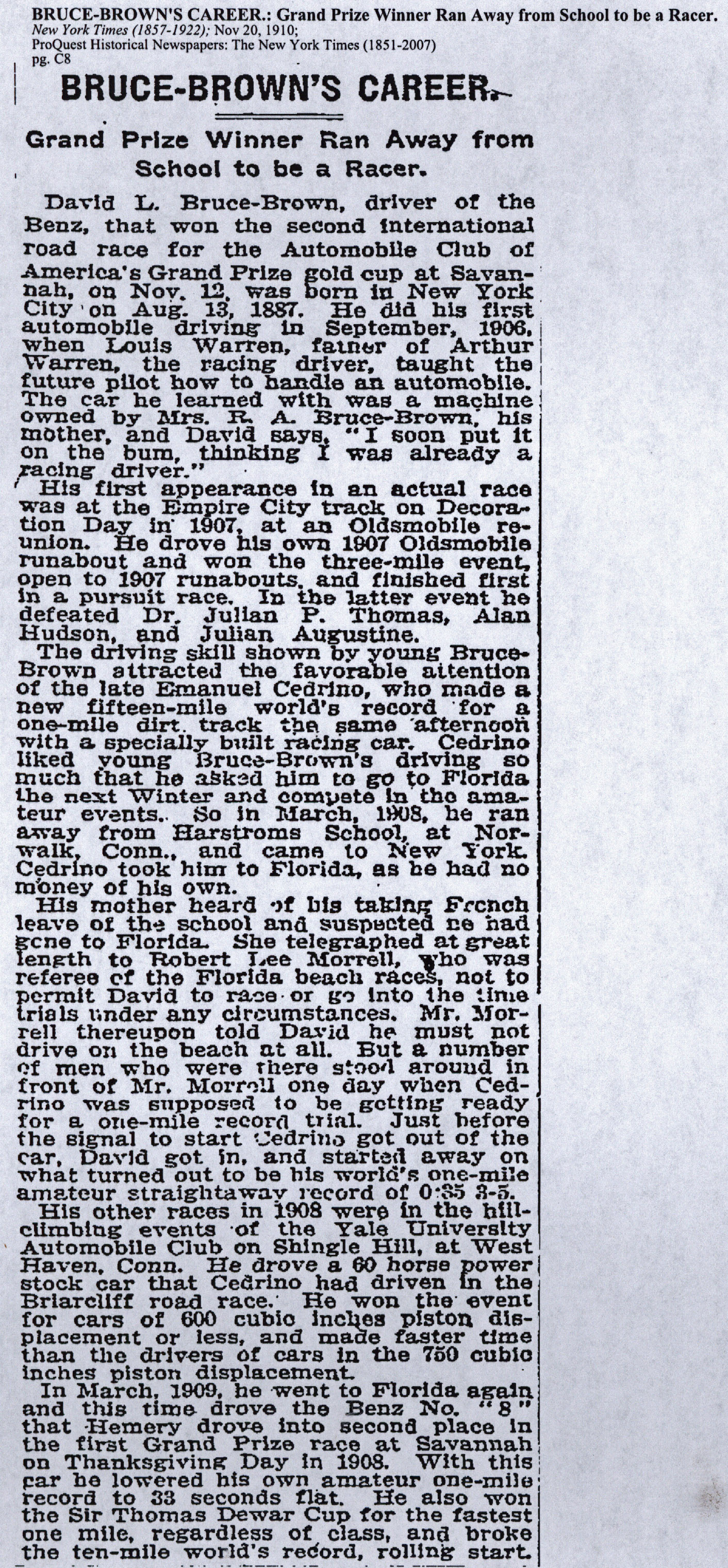 David Bruce-Brown and the automobile were both products of the same era. Part of the first generation to grow up with the machines, David took an early interest in their possibilities. Just a month after his 19th birthday, he received driving lessons in his mother's car from family friend Louis Warren. The car was the first mass production automobile, the "Curved Dash" Oldsmobile. Ever confident, he inevitably exceeded the limits of his skills or the car or both.

"I soon put it on the bum, thinking I was already a racing driver," Bruce-Brown recalled in 1910 about wrecking his mother's car. Hardly dissuaded, Bruce-Brown appeared the next year in May 1907 at the Empire City horse track in his own Oldsmobile runabout for a race meet at the mile dirt oval. Victorious in two sprint races, Bruce-Brown caught the attention of Fiat works driver Emanuel Cedrino of Italy, who established a 15-mile world's speed record for a mile track that day. "

After noting David Bruce-Brown's brilliant driving at the Empire City track in May 1907, Emanuel Cedrino introduced himself to Bruce-Brown and over the next several months the young American served as Cedrino's mechanic. He withdrew from his studies at Harstrom's preparatory school to participate in one of the most important events on the auto racing calendar; the sixth annual Ormond-Daytona Beach automobile tournament ran March 3 through 6, 1908.

Bruce-Brown's absence from school stirred controversy as his mother fired off telegrams from New York to Daytona threatening lawsuits if Fiat or race organizers put her son in harm's way by allowing him to race. Despite the demands of an influential mother, officials looked the other way to allow Bruce-Brown to join Cedrino as his riding mechanician in a 300 mile race up and down the beach against three other competitors. Cedrino won, no doubt giving Bruce-Brown an overwhelming adrenaline rush.

Pleading his case with starter Fred Wagner and event referee Robert Lee Morrell, Bruce-Brown somehow got the waiver to drive Cedrino's Fiat for the one-mile amateur speed record. David Bruce-Brown was an instant success. He smashed the four year old record of William K. Vanderbilt Jr. at 39 seconds (92.308 miles per hour) with a new mark at 35.6 seconds or 101.124 miles per hour.

Next came a crushing blow when Cedrino was killed during a record setting attempt at the Pimlico horse track near Baltimore on May 29, 1908. Once Italian Queen Helena's personal chauffeur, Cedrino was the victim of a right front wheel collapse. He careened into the second turn fence at top speed and incurred massive head injuries. Despite the loss of his mentor, Bruce-Brown forged ahead in 1909 with impressive runs again at Daytona and major hill climb events.

At the wheel of boxing promoter and Australian mining tycoon Hugh D. "Huge Deal" McIntosh's 120 horsepower grey Benz, Bruce-Brown returned to Ormond-Daytona for more records. Smashing his own amateur mile record with a time of 33 seconds or 109.091 miles per hour on March 23rd, he returned the following day to set the professional 10 mile land speed record at 114.504 miles per hour.

The Bruce-Brown and Benz combination dominated again on April 26 in a form of racing that he excelled at: hill climbs. This time he emerged triumphant at the New York Automobile Trade Association's Fort George hill climb, setting a new record for the 1,900 foot incline at 48.8 seconds.
A large entry list of 66 cars gathered on May 26 for the Yale Automobile Club Shingle Hill climb at West Haven, Connecticut. Bruce-Brown again drove McIntosh's 120 horsepower Benz to set the new record at 51.2 seconds or 66.5 miles per hour. Just five days later, he won Wilkes-Barre, Pennsylvania's Giant's Despair Hill Climb , an event that is still conducted today.

The Yale Automobile Club hill climb touches on one of several mysteries about Bruce-Brown. Fred Wagner, in his book, "Saga of the Roaring Road," popularized the misconception that Bruce-Brown attended Yale University and was even a member of their boxing team. In reality, Bruce-Brown never attended Yale, but the Harstrom's prep school he did attend produced numerous Yale graduates. Certainly many of the Bruce-Brown family's friends and colleagues attended the Ivy League institution.

For David Bruce-Brown 1910 was the year he became recognized as one of the bright lights in his sport. While his first try for the Vanderbilt Cup on October 1 yielded a forgettable twelfth-place finish, he would assert his place among the sport's heroes the following month in Savannah.

The big breakthrough came on November 12 in that great Southern city at the American Grand Prize. Bruce-Brown was the junior member of the works Benz team with teammates Willie Haupt and team captain Victor Hemery, winner of the 1905 Vanderbilt Cup.

The race boiled down to a battle of teammates as the 23 year-old Bruce-Brown and Hemery, 12 years older, found themselves in a tight, man-to-man race. With Hemery constantly gaining on his young teammate, but only in increments, Bruce-Brown proved his maturity under pressure. The young driver completed the 415.2-mile race to win by the closest margin in auto racing history up to that time: only 1.43 seconds.

In 1911 Bruce-Brown was clearly the man to beat in American racing. Now driving for Fiat, David was one of the favorites to win the historic first Indianapolis 500. He lived up to expectations, dominating the first half of the race, leading 81 of 102 laps.

Even though he started 25th, Bruce-Brown led by lap 14. Running the fastest laps of the race at 80 miles per hour tire wear produced his first major setback. When a right rear tire came apart just after turn one, he was forced to drive two miles riding on the rim. Back on track Bruce-Brown again set a torrid pace. Despite closing on the leaders in a heroic drive, he suffered another setback with ignition trouble. The Fiat nearly failed entirely on the last lap, forcing a stop in the pits to adjust a faulty spark lever. Still, the advantage he gained on the rest of the field allowed him to preserve a third place finish.

Bruce-Brown's return to Savannah in 1911 delivered both a disappointment and another exhilarating high. In his second try at winning the Vanderbilt Cup – which was conducted outside Long Island for the first time - he struggled yet again. After running as high as fourth place on lap 6, a broken wheel ended his day on lap 7.

He found redemption on November 30,1911 in the 411.36-mile American Grand Prize. Eddie Hearne, this time in a Benz, led much of the race in the early going. As the contest progressed, however, Bruce-Brown found his rhythm and closed on Hearne. At 342.8 miles the race was a three-way battle between Hearne, Bruce-Brown and Ralph Mulford in the Lozier. With two laps to go the three leaders stormed into their pits at almost exactly the same time. Perpetuating the myth that he was a boxer, observers marveled as the six foot, two inch Bruce-Brown slung the heavy mounted tires himself, changing the rubber with a hand wrench in 68 seconds. Mulford, however, got out of the pit sooner but soon broke his drive shaft. Bruce-Brown won by over two minutes after Hearne suffered tire failure.

At the second Indianapolis 500 in 1912 Bruce-Brown was the fastest qualifier at 88.45 miles per hour. Contracted with the National Motor Vehicle Company for a single race, he again started from the back of the field in 23rd position and again surged to the front. He was third within the first six laps, only to have his hopes dashed when his National's valves failed on lap 24. His teammate Joe Dawson went on to win the race.

What may have been Bruce-Brown's most impressive drive came on the June 25, 1912 at the French Grand Prix. It proved to be his only race in Europe. Matched against the great driving talent of Europe with a full field of that continent's elite racing machinery, David Bruce-Brown's star shone brightly. Adding to the growing mystique of this massively talented driver, the European fans were introduced to the brilliant young American when he and his riding mechanic, Tony Scudalari, appeared at the muddy track with their faces shrouded in balaclavas long before such protection was common in motor racing. The race was conducted over two days on a public roads course just shy of 48 miles long in Dieppe, France. Bruce-Brown dominated the first day's half of the race, only to be disqualified the second day when he took fuel far from his pit area.

While it was entirely reasonable for David Bruce-Brown to look ahead to another year for a second chance at a French Grand Prix, it would not be. Looking for his third American Grand Prize victory, he arrived by train from New York in Milwaukee - the site of the 1912 American Grand Prize and Vanderbilt Cup Races - on October 1. His life ended less than two and a half hours later.

Eager to practice with his Fiat, he rushed to the 7.88-mile public roads course and quickly went to work posting fast time at 5 minutes, 53.8 seconds or 80.18 miles per hour. When he returned to the pits, Fred Wagner noticed the Fiat's tires were threadbare and ordered the 25 year-old driver to return to his garage. Bruce-Brown ignored the order and at about 1 o'clock on the backstretch of the course, while traveling at 90 miles per hour, a rear tire exploded. The car did a barrel roll, throwing Bruce-Brown and riding mechanic Scudalari violently to the ground. Both men died of massive head injuries. Widely respected and popular among his peers, giants of the age including Ralph De Palma, Caleb Bragg and Teddy Teztlaff openly wept in the hospital corridor when doctors informed them of the passing of their friend.

David Bruce-Brown was lost to the ages. His brief and brilliant career left his admirers wondering what he could have accomplished if he only had more of what he fought to defeat on the track – precious time.


From ddavid.com

---
Indy 500 Career Stats - David Bruce-Brown
# Starts: 2 (1911,1912)
Best Finish: 3 (1911)
---