May

04

2016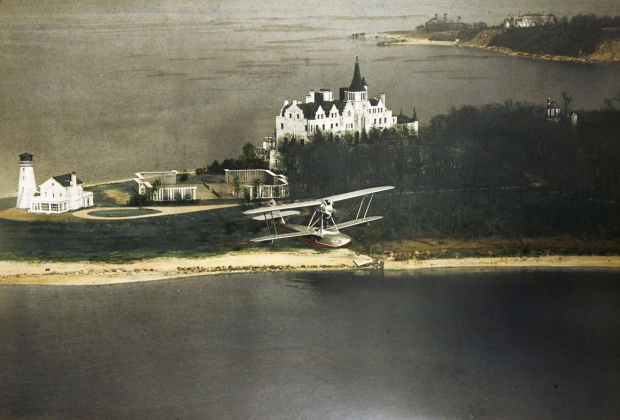 The fourth exclusive aerial from the Cradle of Aviation Museum collection provides a spectacular 1930 Sands Point view of the Beacon Towers built by Alva Vanderbilt Belmont beginning in 1917. Many believe the mansion was one of the inspirations for Jay Gatsby's West Egg mansion in F. Scott Fitzgerald's novel "The Great Gatsby".
An amazing feature of the aerial was a view of the possible East Egg mansion: Herbert Bayard Swope's Keewaydin mansion (later Land's End) or Frank N. Hoffstot's Belcaro mansion.
Enjoy,
Howard Kroplick
In 1917, Alva Vanderbilt Belmont, widowed from her second husband O.H.P. Belmont for 9 years, commissioned Richard Howland Hunt to design this gothic fantasy castle. Hunt was the eldest son of Richard Morris Hunt who had completed the Biltmore Estate for the Vanderbilt family in 1895.
The Sand Point Light. The lighthouse was part of Alva's property.
The never seen before view of Alva's two tennis courts.
Herbert Bayard Swope's Keewaydin's mansion in Sands Point, believed to be the inspiration for the East Egg mansion in The Great Gatsby.
Frank Hoffstot's Belcaro mansion, another East Egg possibility.
The Savoia-Marchetti S-56 at the Cradle of Aviation made in Port Washington.