Jul

02

2015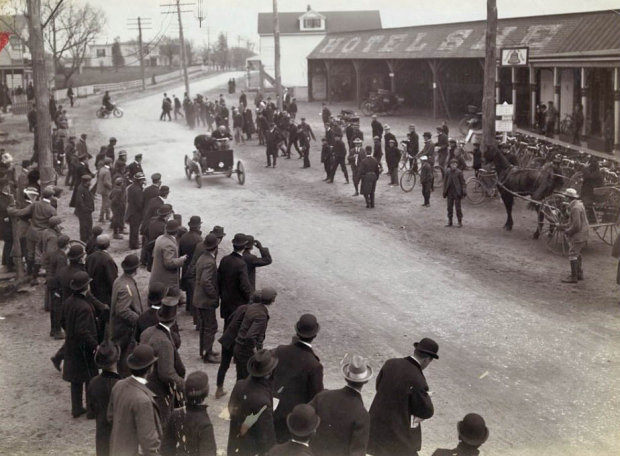 On April 14, 1900 the Automobile Club of America organized the first automobile race held on Long Island. The 50-mile race was held on Merrick Road from the Springfield Boulevard intersection in Queens to Bablyon in Suffolk County and back.
It was the fourth automobile race ever held in the United States and according to The New York Times, it was "the first automobile 50-mile race ever run in America."
Update July 3, 2015: Ariejan Bos has provided additional photos and captions. Ariejan has also provided a link to a copy of the 1900 issues of Automobile Magazine Illustrated. The 1900 ACA 50-Mile Race was described on pages 110 to 122.
Enjoy,
Howard Kroplick
---
Nine of the 15 entrants participated in the race. Drivers for the five gasoline automobiles included; Alexander Fischer drving a Gasmobile, David Wolf Bishop, Jr., Albert Bostwick (chairman of the ACA) and George Chamberlin (president of the ACA) driving Wintons and Cornelius J. Feld driving a 3-hp Compte Albert de Dion-Bouton tricycle.
Ariejan Bos Caption: Alexander Fischer on a Gasmobile, on the right one of the Locomobiles.


Ariejan Bos Caption: David.Wolfe Bishop, Jr. on a Winton
Ariejan Bos Caption: George F. Chamberlin on a Winton
Ariejan Bos Caption: C.J.Field on De Dion-Bouton vis-à-vis, probably a Motorette
Three drivers, S.T. Davis, Jr., David Hennen, and David H. Morris, all drove steam Locomobiles. Each vehicle was required to have a passenger.
Caption: Leonce Blanchet, the donor of the cup and passenger for Bostwick's Winton.
Ariejan Bos Caption:Secretary Hodge and Whitney Lyon on what seems to be a De Dion-Bouton quadricycle (not a tricycle). They were not competitors.
Andrew L. Riker drove his Riker Electric, the only electric vehicle in the race.. The Riker Electric was "low built, capable of making quick turns and carrying a battery of 60 cells" and the heaviest vehicle (2,500 pounds) in the race. Riker later was a co-founder of the Society of Automotive Engineers and an executive at Locomobile.
Ariejan Bos Caption: A.T. Riker driving his Riker Electric
Seven automobiles finished the race with the lighter steam Locomobiles hampered by a "powerful wind on the homeward journey."
Ariejan Bos Caption: Albert C. Bostwick and Leonce Blanchet on a Winton.
Riker's Electric vehicle easily won the race in 2 hours, 3 minutes and 30 seconds, an average of 24.3 miles per hour over the 50-mile course. S.T. Davis, Jr. finished second in a steam Locomobile,15 minutes behind Riker.
This 1900 race set the Long Island stage for the Vanderbilt Cup Races which would arrive four and a half years later.
Ariejan Bos Caption: Riker finishing the race.
The New York Times, April 15, 1900
Brooklyn Daily Eagle, April 1900
The Automobile Review, April 1900