Jul

12

2016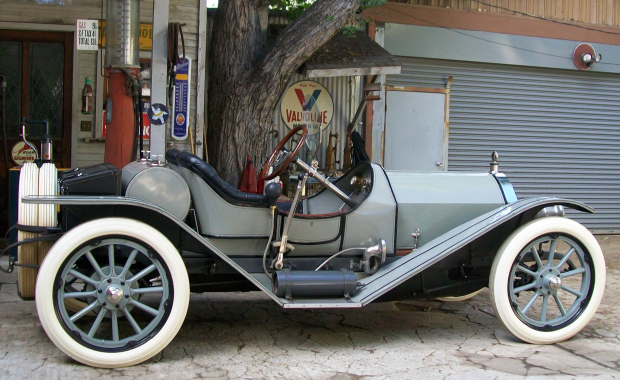 A rare 1912 Moon Model 30 Raceabout,one of Henry Austin Clark Jr.'s favorite automobiles in his collection, will be shown at the 2016 Pebble Beach Concours d'Elegance. Leland Powels, the current owner of the Moon, and his wife Marissa are looking for any photos, stories and documentation of this 1912 Moon. Please use the Comments section below or email information to [email protected] .
Thanks for your assistance!
Enjoy,
Howard Kroplick
---

History of the 1912 Moon (Photos courtesy of Walter McCarthy)
Henry Austin Clark, Jr. in the 1912 Moon in 1948
Sometime before 1987, the 1912 Moon was sold to Bill Harrah. In 1987, it was purchased at a Harrah's Car Auction by Leland Powels' father.
According to Marissa Powels:"The Moon has only been out of the garage twice since Leland's father purchased it in 1987. One of those times was for the 75th National Horseless Carriage Show in Van Nuys in 2012. The actual 1907 Around the World Thomas Flyer was there on display and at the end of the show, the gentleman who had brought the Thomas Flyer (an employee of Harrah's) actually gave rides to a few people after the show was over as a kind of present to the people who helped put the event together. My husband Leland fired up the 1912 Moon, this gentleman had the Thomas Flyer, and another friend of ours had a 1911 Fiat that was there as well......and they all drove around the tarmac at the Van Nuys Airport giving rides to people!"

Current Views of the 1912 Moon (Courtesy of Leland and Marissa Powels)

1909 Moon Racer
A 1909 Moon Racer participated in the 1909 Wheatley Hills Sweepstakes. Driven by Philip Wells, the Moon finished fourth.

Hammond's Historical Happenings (Submitted by Gary Hammond)
The B&W postcard dated 1951 (from Ebay)
Two versions of color postcard #6532 - in front of the LIAM in Southampton 1953 (both Ebay)
The list of HAC postcards with # 6532 1912 Moon Raceabout listed
The Antique Cars by HAC book that I own- Cover; page with the Moon postcard in B&W & reversed; and the plates sold by LIAM, including. the Moon

•
As suggested by Walt I looked through the finding aid for the HAC Collection at the Henry Ford & didn't see a file on the Moon.

Swanson's Surprises (Submitted by Bob Swanson)
The 1912 MOON was on the Glidden Tour in 1950, along with the 1912 Model T Ford that has been in my garage since 1983.