Nov

23

2019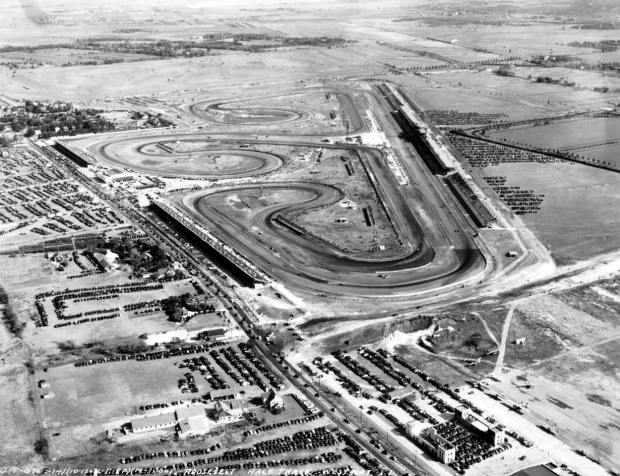 For 20 years from 1936 to 1956, the original Roosevelt Raceway in Westbury was the host for various types of racing including: two Vanderbilt Cup Races, midget car racing and harness horse racing. Here is its history and the various configurations of the raceway.
Enjoy,
Howard Kroplick
---

Roosevelt Raceway
As American economic conditions improved in 1936, Willie K. Vanderbilt Jr.'s nephew, George Washington Vanderbilt III, Boston Redskins owner George Preston Marshall, and Eddie Rickenbacker raised money to return international racing to Long Island. 1908 Vanderbilt Cup winner George Robertson was vice president and general manager, overseeing construction of the four-mile Roosevelt Raceway in Westbury. It was adjacent to Roosevelt Flying Field, where Lucky Lindy departed for a trip to Paris in 1927.
Mark Linenthal, an architect and friend of Marshall, was hired to design the course, and famous board track huckster and compulsive gambler, Art Pillsbury, was retained as consultant. Considering the results, and the fact Pillsbury lived in L.A, while Linenthal resided in New York, possibly, the two never communicated. The Vanderbilt track was a four-mile course with a single 3775-foot straightaway and sixteen completely unbanked corners, ten of which are best described as "hairpin."
Founders envisioned a world-class facility, with wide turns, well equipped garages, massive double-decked grandstands, a posh clubhouse, generous parking and thoroughfares to deal with anticipated traffic. Like Willie K, the Roosevelt bigwigs wished to attract the east coast social set, not the dirt track fans that supported racing through the Depression.
Never sure whether they wished to revive the Vanderbilt Cup or the Grand Prize, organizers first announced a 400-mile race, then, revised it to 300, set for Columbus Day, 1936. A massive purse and personal clout attracted Europe's top teams and America's dirt and championship drivers answered the call.

1936 George Vanderbilt Cup Race



1937 George Vanderbilt Cup Race
Long Island Motor Parkway can be seen on the left



1938-1939
Midget Car Racing track

September 2, 1940-1956- Harness Horse Racing


1956 Messenger Stakes starts at 2:00 mark.

Roosevelt Raceway (1957-1988)


By the end of 1956, Roosevelt Raceway was moved further south to a new facility adjacent to the Meadowbrook Parkway. The last race at Roosevelt Raceway was held on June 15, 1988, over 31 years ago. Times sure does fly!