Oct

20

2012
On Sunday, November 11, 2012 at 9:00 pm, the 1901 "Race That Changed the World" will be re-enacted on the History Channel's mini-series "Men Who Built America".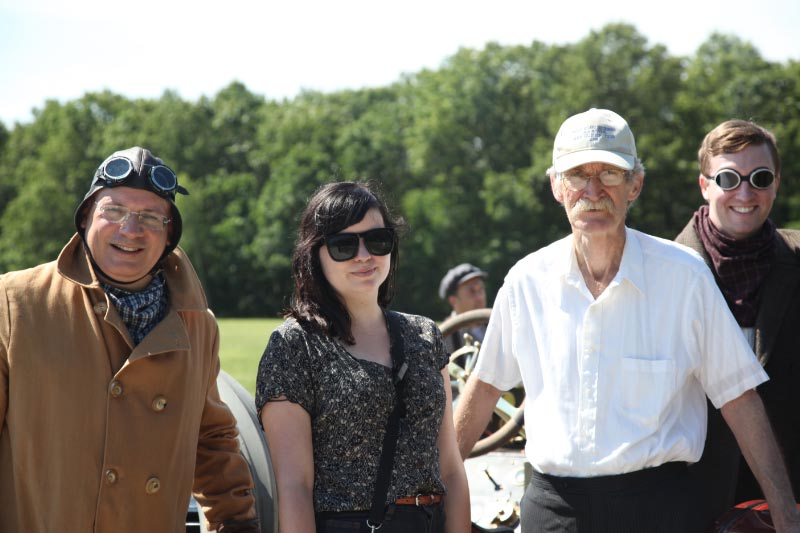 Last July, Ed LaBounty's 1913 red White speedster and my Alco Black Beast re-enacted the historic 1901 sweepstakes race between Henry Ford (Ed LaBounty) and Alexander Winton (Howard Kroplick).
During last Tuesday's premiere of the "Men Who Built America" series, Ed and I can be seen in the introduction of Henry Ford (see 17-20 second mark and 1:10-1:11 minute mark):
In 2001, the Ford Motor Company issued this press release on the 100th anniversary of the race:
---
Ford Press Release- October 8, 2001
One Hundred Years Ago This Week, Henry Ford Wins 'Race that Changed the World'
ONE HUNDRED YEARS AGO THIS WEEK, HENRY FORD WINS

"RACE THAT CHANGED THE WORLD"



DEARBORN, Mich., Oct. 8, 2001 – Ten well-timed, efficiently productive laps around a one-mile dirt oval 100 years ago this week turned a highly publicized and well-attended automobile event into a race that changed the world.

Eight thousand strong were drawn to the Detroit Driving Club's track in Grosse Pointe, Mich., on Oct. 10, 1901, to watch more than a dozen automobiles compete in a race event that was being touted nationally as what "ought to be the largest affair of its kind held, so far, in this country." What those enthusiasts of the fledgling automobile eventually saw was a showdown between the most noted auto racer in the United States and a little-known mechanic and tinkerer whose first venture into auto manufacturing ended one year after it began. They also witnessed the very beginning of Ford Motor Company.

Henry Ford, along with several other partners, had founded the Detroit Automobile Company two years earlier, in 1899, but the business closed the following year, producing less than two dozen vehicles. Ford had wanted to develop better cars, but his stockholders decided to dissolve the company instead. By 1901, he was looking to start another company in an over-crowded industry that catered to a niche market.
In 1901 it seemed like everybody had an automobile manufacturing company. More than 50 existed, mostly in New England, producing more than 4,000 vehicles, powered mainly by steam or electricity, not gasoline. In addition, automobiles were primarily a novelty for the very wealthy. "The public refused to think about the automobile as anything but a fast toy," Ford would say years later. But, he had the opposite view. He believed that the automobile could be a mass-produced, inexpensive, reliable mode of transportation that a majority of people could afford.
In order to establish financial backing for his next business enterprise, Ford needed to convince potential investors that that his ideas were sound, and that his affordable automobiles could be a commercial success. He needed to promote his name and build his reputation, and racing was a high-profile way to do both. And that's how a 38-year-old hopeful businessman found himself soon to be entered in his very first race.


In May 1901, Ford, with the help of several others, started working on an automobile nicknamed "Sweepstakes," which would later be entered in the race in Grosse Pointe. Its frame was made from ash and its two-cylinder engine was 539 cubic inches. Sweepstakes would be completed and test driven within two months. Over a measured half mile, Sweepstakes was timed at 72 miles per hour. Sweepstakes was ready to race.

But so were the others. Ford – who produced his first working automobile, the Quadricycle in 1896 – was just one of 13 entrants from Detroit, as was Ransom E. Olds, founder of Oldsmobile and later REO. Others came from as far away as Buffalo and Pittsburgh. The favorite, though, hailed from just the other side of Lake Erie. Alexander Winton, from Cleveland, was not only an auto manufacturer, he was the most celebrated racer in the country. Winton's business manager convinced the race promoters to allow him to help pick out the trophy, which turned out to be a cut-glass punch bowl, perfect for Winton's home.

Because of attrition to the cars of most of the competitors and the length of the earlier races, the day's featured event was shortened from 25 to10 laps. Only three automobiles were entered, but when one of those experienced a mechanical problem at the start line and was forced to withdraw, the highlighted finale' became a two-car showdown between Alexander Winton's "Bullet" and Henry Ford's "Sweepstakes."


Winton, like Ford, was an auto manufacturer, but unlike Ford, was a successful and celebrated racer. Ford had never raced before. And, the power produced by the two cars was as different as the racing experience of the two drivers. Bullet produced about 70 horsepower, nearly three times that of Sweepstakes' 26.

Ford's debut as a driver didn't start well. His inexperience showed as he slowed in the corners, letting off the gas. Ford and Sweepstakes fell behind by as much as a fifth of a mile.

But, midway through the race, Ford slowly started to make up ground. And then, on the seventh lap, Winton's car, slowing noticeably, began to sputter and smoke. With the timing of a master showman, Ford, the decided underdog and sentimental favorite to the hometown crowd, passed Winton right in front of the crowded grandstand and went on to win by a wide margin. Sweepstakes, the out-powered automobile that could, averaged 45 miles an hour during its 10-mile historical journey.

Sweepstakes' engine featured a technologically advanced ignition system. In the systems in use at the time, inconsistent spark and electrode fouling were common, often causing engines to misfire. The team that built Sweepstakes – Ford, Oliver "Otto" Barthel, Ed "Spider" Huff, Ed Vanderlinden, Charlie Mitchell and George Wettrick – commissioned a local dentist to put together a case made of porcelain to insulate the spark coil. With the porcelain insulation, there was a hotter, more consistent spark, helping the engine run better, longer. The ceramic insulation eventually led to the introduction of the spark plug, and is an early example of product development through innovation inspired by a desire to win races.

Ford's wife, Clara, perhaps best captured Ford's achievement in a letter she wrote to her brother, Milton Bryant. "Henry has been covering himself with glory and dust," she penned. "I wish you could've seen him. . . . The people went wild. . . . That race has advertised him far and wide. And the next thing will be to make some money out of it. I'm afraid it will be a hard struggle."

In addition to "glory and dust," Ford won the $1,000 prize and the cut-glass punch bowl that was earmarked for Winton's home in Cleveland. More important, though, Ford won the financial backers who would help him start the Henry Ford Company and, ultimately, Ford Motor Company in June 1903. Ford went on to prove his belief in low-cost production with the famed Model T, the car that put the world on wheels. The Model T, like Sweepstakes, also produced 26 horsepower.


The car that started it all, Sweepstakes, was sold by Henry Ford in March 1902 then re-acquired in the early 1930s. It had been stored in a warehouse for many years, and the wooden body had been destroyed by fire. It was restored, used for some promotions and moved to Henry Ford Museum in Dearborn, Mich., where it remained, displayed to the public off and on, until 1987. Sweepstakes, painstakingly restored again during the past year, will be on display at the Ford Racing Centennial Festival in Dearborn on Saturday and Sunday, October 13-14.
---
Enjoy,
Howard Kroplick


Behind the Scenes of "Men Who Built America"

Television recommendation for tonight: "Night of Too Many Stars", Comedy Central, 8:00 PM