Oct

14

2013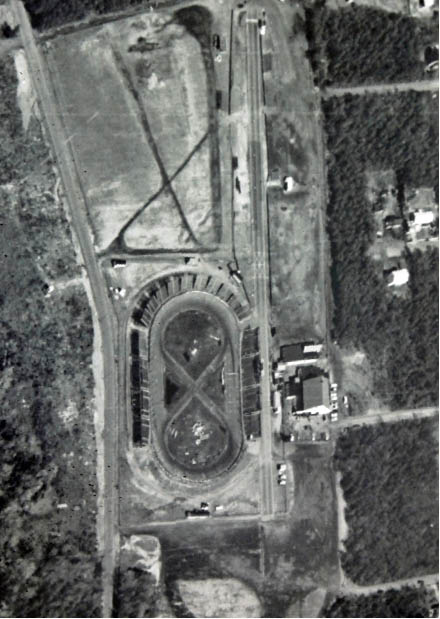 Long Island driving icon and automotive historian Marty Himes provided this aerial of a Long Island race track.
Mystery Foto questions:
-Identify the race track
Islip Speedway, Islip, New York
-What is the earliest possible year of the aerial? Why?
After 1961. The figure eight in the aerial was constructed in 1962.
Congrats to Greg Oreiro, Art K., Steve Lucas and Arthur Emerson for correctly identifying the track and the earliest possible year of the aerial as 1962. Kudos to Ted, Pat Masterson, Jerry Giarratana and Paul Emmert for identifying Islip Speedway.
If you wish to submit a Mystery Foto, submit a jpeg to [email protected] .
Enjoy,
Howard Kroplick

Islip Airport (1928-1947)
Before becoming the Islip Speedway, this 25-acre field was Long Island's first municipal airport.
The field was founded by Charles Lawrence who designed Charles Lindbergh's "Whirlwind" engine for the Spirit of St. Louis and built a candidate for the 1906 Vanderbilt Cup Race..
The Islip Speedway being built for its 1947 opening.
The figure eight of the speedway.
Marty Himes rides to victory at Islip in the 1970s.
On Thursday, you can hear Marty in person tell the history of this sign. See below.

Former Location of Islip Speedway

Discovery Channel Film "Islip Speedway's Demolition Derby" Featuring Marty Himes


Please join the Long Island Motor Parkway Preservation Society this Thursday at 7:30 PM at the Old Bethpage Village Restoration for a special presentation: An Evening with Marty Himes . Admission is free.