May

11

2015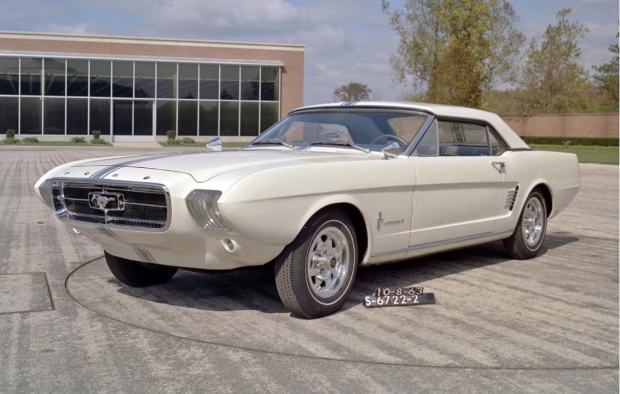 This weekend's Mystery Foto featured a unique historic automobile.
Mystery Foto questions:
1963 Mustang II Prototype
Which company built this automobile after receiving the chassis?
Dearborn Steel Tubing (DST). DST would also later build the Mustang III "Two-Seater" Prototype. Vincent Gardner would be the designer and stylist for both automobiles.
When and where was it introduced?
October 6, 1963, at Watkins Glen Raceway in Watkins Glen, New York
At its introduction, what was the explanation why this automobile was built?
At an afternoon press conference the day before the Watkins Glen Grand Prix. Lee Iacocca told newsmen: "The Mustang II is one of a series of recent idea or show cars Ford Division and Ford Motor Company have built to test public reaction to syling and functional innovations...Showing these vehicles to people like you- and to large segments of the public at auto shows and other special events- gives us a pre-test of likely customer response to styling and mechanical innovations we may be considering for future production models."
What were the unique features of this automobile?
As per Mustang360, "Mustang II has several unique, cobbled together features, such as its ill-fitting hardtop, bumperless look and headlamps with metal grates, decorative rear bench seats and rims with a Mustang II center cab." In this article, Mustang360 provide an up close profile of the 1963 Mustang II Prototype.
Congrats to Robert Greenhaus, Greg O. Tim Ivers, Steve Lucas, Syd, Hugh, Frank Femenias (See Femenias' Findings), and Gregg D. Merksamer (see Gregg's Phot Files) for correctly identifying the Mustang II. Kudos to Robert Greenhaus, Greg O. and Steve Lucas for identifying Dearborn Steel Tubing as the builder of this unique automobile.
Enjoy,
Howard Kroplick
The 1964 1/2 Mustang III "Two-Seater" Prototype will be on display for the first time on Long Island this Sunday in Kings Point.
---
At the 2014 Ford Product Development Center Car and Truck Show, the Mustang II was displayed with the Mustang I and Mustang III.

Greg's Photo Files (Submitted by Gregg D. Merksamer- Historian of the New York International Auto Show)
1964 International Auto Show in the New York Coliseum. Photo by future Pierce Arrow Society publications director Bernard J. Weis.

Femenias' Findings (Submitted by Frank Femenias)
1963 Mustang II
1962 Mustang I