Mar

18

2019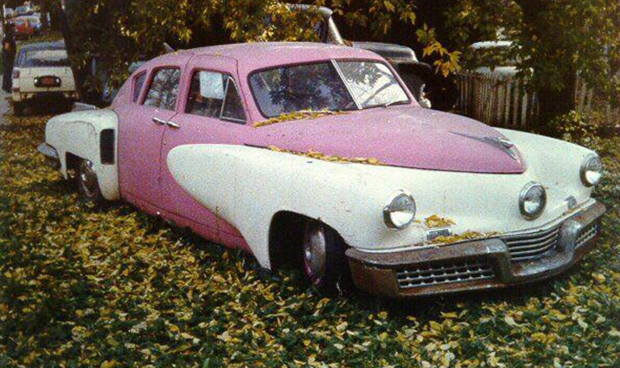 In celebration of Tucker 1044 at the 2019 Amelia Island Concours d'Elegance, R A challenged you to identify this Tucker prior to its restoration.
Mystery Foto questions:
Identify this Tucker '48 i.e. chassis # and original color.
Tucker 1043 which was originally Waltz Blue (Tucker code 200). According to Steve Lucas and Jim Ryan: The Tropical Rose and Snowshoe White colors were from the car being used as a promotion for a Bellwood, Illinois golf driving range.
What year was this photo taken? Provide a rationale.
After being purchased by Arizona car collector Ron Platte, Tucker 1043 was restored to its original Waltz Blue color. The Mystery Foto was taken before the restored Tucker 1043 came up for sale by Platte in January 23, 2012 at Barrett-Jackson auction in Scottsdale, Arizona.
What is significant about this Tucker in automobile history?
Despite its rough driving range history, Tucker 1043 was and remains the most expensive Tuckerever sold at auction. The hammer price was $2.65 million. Adding Barret-Jackson's commissions, the final price was $2.915 million. As seen in the below YouTubes of the auction sale, two bidders went head to head raising the price from $1.5 million to $2.60 million in less than 30 seconds.
Tucker 1043 was sold again in 2018 in a private sale.
Comments (7)
Congrats to Ken Northcraft, Ted Reina, Steve Lucas, Jim Ryan, SteveL and Chris Hansen for identifying Tucker 1043.
Kudos to our old pal Ted Reina! Great to hear from you!!
Enjoy,
Howard Kroplick