Mar

11

2014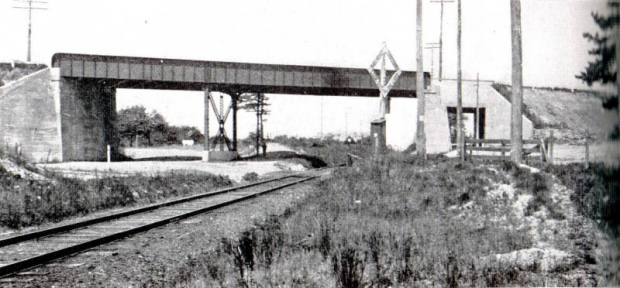 The 45th bridge in the series documenting the 60 bridges built by the Long Island Motor Parkway is the Central Avenue/Long Island Railroad Bridge in Central Park (now Bethpage). The bridge was the longest bridge built by the Motor Parkway and the only bridge crossing a railroad track and a road. It is classified a "parkway bridge" since the Motor Parkway went on top of the bridge. The steel trestle construction, rather than concrete, was mandated by the railroad.
One of the original 16 bridges built for the Vanderbilt Cup Races, the Central Avenue/LIRR Bridge is very well-documented, especially its construction in 1908.
Enjoy,
Howard Kroplick
1907 blueprint of the bridge.
Central Park was later renamed Bethpage.

June 1908- Construction Images (Courtesy of the Garden City Archives)
Looking North
Looking South
Looking East
Looking South East
Looking West

1908 Blueprint for the Initial Nine Miles of the Motor Parkway

September 5, 1908- Construction Photos

1926 Aerial

1928 Motor Parkway Atlas

1908-1938 Completed Bridge
This view looking east shows the Central Avenue Bridge in the left corner. The coal bunkers of the Starlight Fuel Company were located at the intersection of Lexington Avenue and Schneider Lane. Courtesy of Bob and Coleen Albertson.

1908 Motor Parkway Sweepstakes
The Central Avenue Bridge can be seen in the background.
The #P46 Renault (France) driven by Lewis Strang. Finished 2nd in the Motor Parkway Sweepstakes.
Th #N3 Buick driven by Hugh Easter. Finished 1st winning the Nassau Swepstakes, averaging 44 miles per hour.

1950 Aerial of Bethpage

Now: 2003
Remnants of the bridge's south embankment are still in place.

Now: 2012
In 2012, The Central Park Historical Society placed a historical marker on the north side of Central Avenue at the site of the bridge.