Oct

22

2013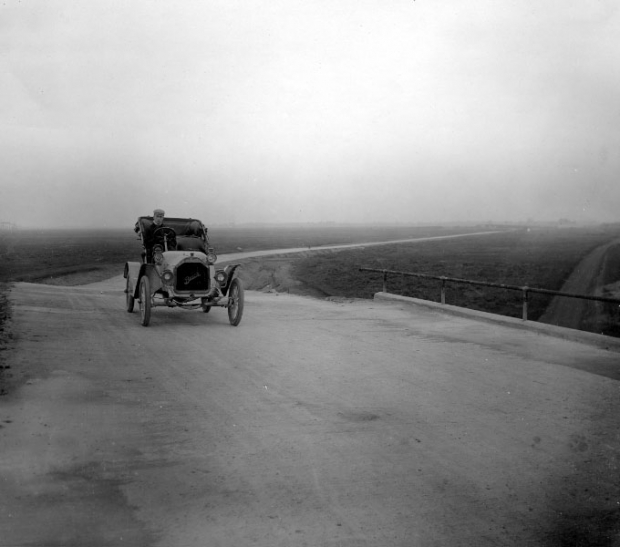 The 38th bridge in the series documenting the 60 bridges built by the Long Island Motor Parkway is the Westbury Road Bridge in my childhood hometown East Meadow. It is classified as a "parkway" bridge since the Motor Parkway went over Westbury Road (now called Old Westbury Road).
One of the original 16 Motor Parkway bridges built for the 1908 Vanderbilt Cup Race, the construction of this bridge was well-documented.
Enjoy,
Howard Kroplick


Motor Parkway Survey Blueprints- May 1908
The bridge was designated as station 205.0 .

Construction Photo- July 23, 1908

Construction Photo- August 20, 1908

Completed Bridge- September 1908
A close-up shows the photogrpher's assistant was driving a Buick. Note the telegraph poles lining the Central branch of the Long Island Rilroad on the left.
This close-up of the photo shows the Carman Avenue Bridge in the background.

1909 Vanderbilt Cup Race- October 30,1909
William Knipper was seen here driving the #7 Chalmers on the Westbury Road Bridge. Note the rail of the Long Island Railroad on the left.

Motor Parkway Atlas-1927
The property just to the west of the bridge was purchased from theheirs of A.T. Stewart. The property to the east was purchased from Jacob Gaenger.

Ground Image- 1950s
The bridge was still standing in the 1950s carrying Salisbury Park Drive over Westbury Road. Note his photo matches the 1908 construction photo.

Ground Image-1955

Ground Images-2003
By 2003, the bridge was long gone. However, the fence posts seen in the 1950s photo were still intact.
Remnants of the bridge may have been placed in this nearby pile.

Now
A Google Earth aerial of Old Westbury Road and Salisbury Park Drive
Check out Wayne Consolla's online Motor Parkway map, to find the location of the Westbury Road Bridge.