Mar

04

2016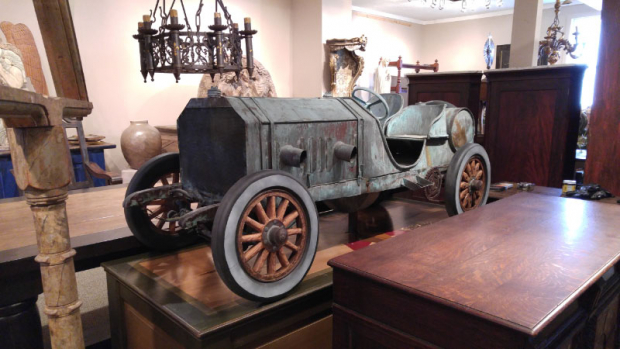 Yesterday reporter David Conwill in the Hemmings Blog reported on the mini Old 16 that is currently being sold at an antiques store in Bennington, Vermont.
This item was first discussed on VanderbiltCupRaces.com on January 12, 2016 with a comment from Jerry Helck.
David, thanks for the shout out!
Enjoy,
Howard Kroplick
---

auto art
Hemmings Blog

Does this weathervane look familiar?

David Conwill on Mar 3rd, 2016 at 8am
Despite initial public resistance, the first Vanderbilt Cup race was held October 8, 1904, but the Europeans, possibly due to their head start in developing race cars and related driving techniques, won the first two runnings. It was not until 1908 that an American car with an American driver would win an international race, and that race was the Vanderbilt Cup.

Like other early marques, Locomobile entered motor racing, first contesting the 1905 Gordon Bennett Cup with a 1,080-cu.in.-engined racer that ate its transmission after only two laps of the mountainous Auvergne circuit. That same year, Locomobile's entry in the 1905 Vanderbilt Cup race took third, but a flat tire cost the company any shot at victory in 1906.

In 1908, however, Willie K. had upgraded the race course with the construction of parts of what became known as the Long Island Parkway, a public road that helped open up that previously rural area to development. Locomobile's new driver, George Robertson, took the win in a Locomobile numbered 16 and the legend of "Old No. 16" was born.

Robertson was born in 1884. His father ran one of New York's first big garages, and George was exposed to the best European and American marques from the beginning. In addition to Old No. 16, Robertson raced a Christie, a Hotchkiss and a Simplex. In 1910, he was made the captain of the German Benz racing team, but was injured while showing a newspaper reporter a race course, which led to his retirement from driving.

The Vanderbilt Cup races continued on Long Island until 1911 and then began to move to other venues around the country. The U.S. entry into World War I brought a halt to racing, and the Vanderbilt Cup races did not return in 1919.

As influential as the Vanderbilt Cup races were as a whole (many credit the "highboy roadster" look of the '30s through the present as an imitation of the Vanderbilt Cup racers), arguably no aspect captured the public's attention in the same way as Old No. 16

As you may have guessed, it is Old No. 16 that this sculpture recreates. The story that was told to present owner Clifford Buisch of Four Corners East Antiques & Art (802-442-2612), when he purchased it in Palm Beach, Florida, was that it may have been commissioned by the Vanderbilts themselves (who often wintered in Palm Beach) to commemorate the race. Although it is scaled like a child's pedal car, it currently sits on a swivel above a compass rose as though intended for use as a weathervane. Its patinated condition hints that it resided outside at some point.

The original Old No. 16 still exists in the collection of The Henry Ford in Dearborn, Michigan. Its technical details are fascinating, but we will leave them to others to relate. It has also passed through many owners before ending up at The Henry Ford, including the great automotive artist Peter Helck. Howard Kroplick, one of the most dedicated of Vanderbilt Cup historians, put us in touch with Helck's son, Jerry.

Jerry viewed the Old No. 16 sculpture here and concluded that it is unlikely that the car was commissioned by the Vanderbilts or the Locomobile company (which was purchased by Billy Durant in 1922 and ceased operations seven years later), but is instead of 1950s or later vintage.

"It's not really old," Jerry says, "I don't recall OLD 16 having a step originally; this looks like the one I made in the 1950s."
Indeed, review of photos at the time it was raced do not show the step in question. Nevertheless, we think it's a neat piece of automotive art that must have some interesting history of its own, given its large size and impressive detail. As Jerry notes, the artist "did get some details absolutely correct, e.g., the distinctive design of the radiator and oil tank caps."

As for Robertson, in 1921, he served as Duesenberg's team manager at the French Grand Prix, where they won. He was later vice president and general manager of Roosevelt Raceway on Long Island, which hosted a revived Vanderbilt Cup in 1936 and 1937.

Can any of our readers shed some more light on this neat old piece? Does anyone want to step up and purchase it to display in his or her den of automobilia? It certainly is a neat opportunity to look back at the earliest days of auto racing and the people that made it happen.