Oct

20

2018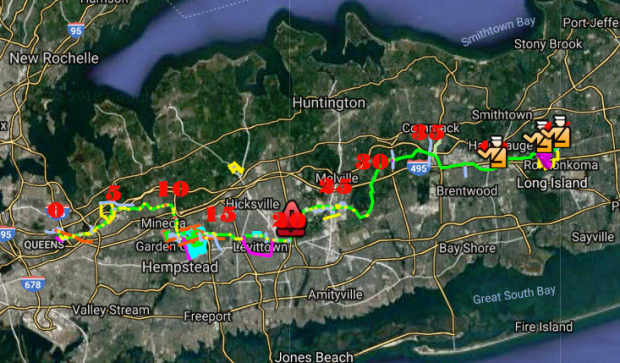 Inspired by Wayne Consolla's online Motor Parkway map, our master mapper Frank Femenias has created a new interactive online map of the Long Island Motor Parkway.
Here is Frank's description of the map:
---
The Long Island Motor Parkway Online Map
By Frank Femenias
The map is an alternate view of Wayne Consolla's wonderful online map. Anyone with internet service can access it. All map photos and links re-route back to the wonderful website VanderbiltCupRaces.com.
The views are accumulations of Google Earth files over the years, revealing locations of the Motor Parkway, its structures, and main attractions along its route. Many of these locations were obtained by overlaying aerial photos for accuracy. All the files are now neatly assembled together on one map.

There are two ways to access the map contents.
My favorite is to go directly into the map on the right side, and double clicking to zoom into the desired location(s).
The other way is to scroll through the lists on the left side pane. These lists are categorized into four groups:
-Motor Parkway
-Extras
-Bridges and Underpasses
-Lodges and Toll Booths

The contents of these lists are in location order from the Western Terminus (Mile 0), to the Eastern Terminus (Mile 45). Mile markers were also put into place to help with the search.
Thanks again Howard and great job with an awesome website!
Any suggestions and recommendations are gladly welcome in the below Comments section.
---
Enjoy,
Howard Kroplick



Examples of the Femenias Long Island Motor Online Parkway Map
The Motor Parkway
The Western Terminus
73rd Avenue Motor Parkway Bridge
The outline of William K. Vanderbilt, Jr.'s Deepdale Estate in Lake Success
I.U. Willets Motor Parkway Bridge
Wheatley Hills Golfway Bridge
Mapping of Camp Mills, Roosevelt Field, Roosevelt Raceway, the Hempstead Spur and Mitchel Field.
The Vanderbilt Cup Race grandstands, the Long Island Aviation Country Club and the proposed Hempstead Plains Race Track.
Richard and Ellen Foran's Halfway House Tea Room
Bethpage Lodge Driveway
Clody Farmway Bridge
Broad Hollow Motor Parkway Bridge
Deer Park Road (Avenue)
The proposed Ronkonkoma Speedway
Ronkonkoma Lodge and Petit Trianon